Klin-Fire Reports
Mar/KLIN-FIRE notes
Sun 03/18/2013 6:44 PM

To my Comrades in KLIN-FIRE, greetings!

Every now and then, some big KAG brain back east comes to the conclusion that KLIN-FIRE
needs to have quadrants. Right. When I set up the Klingon Strike Force ages ago--in the time
of the dinosaurs?--we broke the U.S. into 8 Sectors. Right. Some Klingon clubs have our portion
of the States broken up into "Fleets" or "Regions". Right. I call that bureaucracy; make-work
jobs and titles.

Off swimming out of the map below are our friends in Hawaii and Alaska. This is a map of OUR
fleet's operating "turf"; Blue is Pacific Time Zone, and Green is Mountain Time. Obviously, Idaho
and Oregon have some things to work out as to sharing, and Arizona has chicken pox.

The majority of KLIN-FIRE ships hug the Pacific coastline from Seattle to San Diego. We have nothing
in Nevada...although we'd love to! A potential ship--IKV RED STAR--may start up in Spokane (eastern
Washington.)

In the green portion, we have is a glorious ship in Denver CO, two in Arizona, and my pal Quvmoh
and the IKV PIP-HOS in Boise Idaho.

Before we have any semblance of Quadrants/Sectors/Regions, we need to build up ships in the
green portion of this planet. SO, scour all available sources you have or can find--especially target
colleges/universities in Missoula and Helena Montana, Albuquerque NM (even spelled correctly it
looks wrong), and Salt Lake City. Make inquiries of all nearby Fed ships to "inquire if there are
Klingon nationals aboard."

Will it be worth the effort? Absolutely! More ships to play with. Pride in what WE have accomplished.
And developing ships for the KLINGON ASSAULT GROUP is one of the best ways I know of to be
recognized and promoted for ones' efforts.
=====

I can tell you that I am working with a distant Klingon in building a new ship for KLIN-FIRE.
It's name is the IKV MIDNIGHT LEGEND; when it becomes operational, The Legend should prove
to be not only interesting, but educational.

=====
In the photo below, I'm promoting the Romulan AELAIDOANN to the rank of IXL Captain. This
happened last fall in Phoenix, at COPPERCON. It was a simple ceremony, in a procedure I call
"Make A Desk!" I write their promotion out on paper using their back as a writing surface.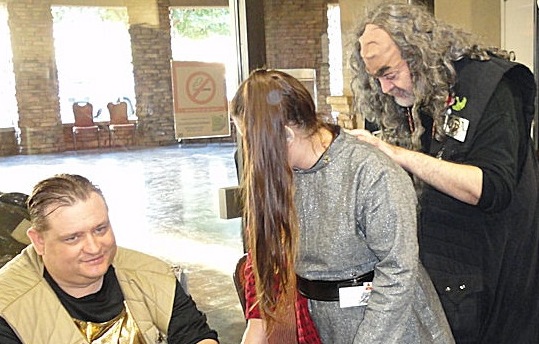 Note all that long, glorious Romulan hair.

A couple of days ago I received a follow-up photo from the IKV KARNAGE in Phoenix (it's tacked onto
this message as an attachment.) Our Romulan has lost her QUEUE; made her fighting mad, which
is good! I think...

KRIS
Thought-Admiral/KAG Founder
KLIN-FIRE Force Leader
CO, IKV DARK SUN, Los Angeles

Mar/KLIN-FIRE notes
Sun 03/11/2013 6:44 PM

STAR TREK INTO DARKNESS.
And so all things STAR TREK begin again....and media from near and far will want to have something
to say about the new fiim due out in a couple of months. Want to be on the news or in the paper?
Send these people a Press Release-- TELL THEM of your next meeting. SHOW THEM a photo or two
of you and/or your crew in uniform. DAZZLE THEM with a few words "in Klingon!" ASTOUND THEM
of how your mighty ship from the KLINGON ASSAULT GROUP (KAG.org) is planning to occupy and
pacify (the theater) when it shows the new STAR TREK Movie! GIVE THEM your contact information,
including phone number....

You're going to go see this Trek movie anyway....you might as well be seen going to go see it!

-----

I got the following in from the IKS MYSTIC VAMPYR in Denver:

"IKS MYSTIC VAMPYR, and some Feddies(great people-we could not have done it without them) did a brunch for Ronald McDonald House
on March 10th. It was a Glorious event and we look forward to doing it again next year!!"

-----
Kwak and I from the IKV DARK SUN went down to CONDOR in San Diego, and had a good time, despite
being the only Klingons there. Or...BECAUSE we were the only Klingons there? We were at a table
in the Dealer's room, and our table--absolutely devoid of toys or paperwork--was uniquely novel, and
cut down on the "grazing", and increased the conversation.

WHY THE FEDERATION SUCKS. The panel started with Kwak piloting an Enterprise toy from the 70s....
...and his smiles came from CRASHING the ship, along with maniacal laughs and his "squealing brakes."
*Were there any Vulcanians, Tellarites, or Andorians--all Founding Members of the Federation-- in the audience? NO. Just Earthers. That sucked. *Did the KLIN-FIRE banner look great in comparison to the Federation banner? Yes. And the Fed banner DID suck. I made sure of it, by wadding it up and sticking it under my mattress for a couple of weeks. *As a tribute to the new OZ movie, and as a warmup excercise for the crowd, we sang the Witch's Guard chant, that O-E-O piece. Except for one old
lady. She...well, she just sat there. *A woman got tapped to put on a headpiece. 'Instant Klingon'. So...how long does it take to be an officer of the Federation? I don't know for sure, but for time totally wasted, it HAS to suck. There were other comparisons, PLUS we handed out a KAG card and a MAS CHAB (Moon Pie) to everyone attending. "And when have you EVER received ANYTHING FREE from the Federation?" NEVER! AND THAT, MY FRIENDS...is to be expected. The Federation sucks. (There is the
possibility that our Volunteer Lady at the panel may start up a second KAG ship in the San Diego area. It's a big enough town to warrant some expansion!!) ----- At the end of March, NORWESCON in Seattle happens! It's been years since I've attended that convention; I'm looking forward to being there as a KLINGON this time!

KRIS
Thought-Admiral/KAG Founder
KLIN-FIRE Force Leader
CO, IKV DARK SUN, Los Angeles

FEB/KLIN-FIRE notes
Sun 02/28/2013 6:44 PM

To my comrades in KLIN-FIRE, greetings!

A NEW SHIP joins our numbers, the IKV CAT'S EYE. To have yet another batch of Klingons to work with--to PLAY WITH--is truly exciting. And, with yet another KAG ship in southern California, this really expands our base.

So. Let me present...IKV CAT'S EYE: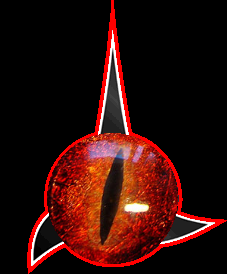 IKV CAT'S EYE

Location: HIGHLAND CA
Contact: MAHKOM
email: catseyeikv@gmail.com
There will be a link for Mahkom and the Cat's Eye: https://sites.google.com/site/ikvcatseye/

(Vam'Pyr, you know what to do....!!!)

And friends, a second ship-- IKV RED STAR-- is being developed in Spokane Washington. Amazing.
----- MUSINGS -----
Two maps of the bulk of KLIN-FIRE's territory are attached--- these do not show Alaska or Hawaii, so not slight is intended to IKV RAMJEP JUL and the IKV SEEKER.

When you look at the Interstate Freeway map, you can quickly see how we're connected, and you can spot major centers where we need KAG vessels. Two locations are obvious: ALBUQUERQUE New Mexico, and SALT LATE CITY Utah.

Having KAG ships in the SAN FRANCISCO/OAKLAND area would also be key.

The other map shows how two Time Zones overlay KLIN-FIRE. There is way too much geography and not enough Klingons to really warrant adding bureaucratic layering--quadrants.

I don't know the right terminology...."patrol zone"?...on how to designate these portions. If any ideas come to mind, feel free to pass them along.
-----
For me, for the IKV DARK SUN, maybe the IKV SWIFT WIND, hopefully the IKV CAT'S EYE .... will be meeting up with DGHOR and the IKV SUVWI' PO at CONDOR in San Diego...and be there for our panel....

"WHY THE FEDERATION SUCKS!!"
KRIS
Thought-Admiral/KAG Founder
KLIN-FIRE Force Leader
CO, IKV DARK SUN, Los Angeles

JAN/KLIN-FIRE notes
Sun 01/17/2013 6:44 PM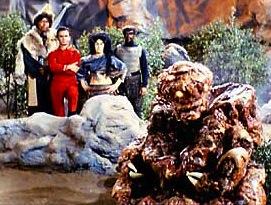 "Listen, Kahless...it wasn't MY dog and this isn't MY lawn. I'M not cleaning it up!!"

Greetings, KLIN-FIRE!! Kris here....

The IKV KARNAGE of Phoenix has been doing a great job of recruiting; it's my privilege to send out a battlecruiser patch to new members to the KAG ships in our fleet...unless Sicarius and his crew gobble them all up.
-----

In my last message to you ship COs, I raised the idea of having a photo of the crews placed behind their ship's banner/logo. The link to our fleet page is here:

http://srf.kag.org/

Comments I've heard have been positive--questions have been raised about how to do it. Vampyr of the IKS MYSTIC VAMPYR has offered to take care of making it happen. (Mystic_vampyr at yahoo.com)

My thoughts:

*If not a photo of your ship's contingent, then send a picture ofthe ship's CO. This way those looking at our fleet can click and see who they're checking out...or who's running the local KAG works.

* KLINGON uniforms/costuming. NO street clothes; NO Starfleet monkey-suits or pajamas.

* IXL officers gear up in your home-world garb, as long as it's NOT Earther fashions.

*To make things easier on Vampyr, send photos AS AN ATTACHMENT. As an example, my photo is attached. That ought to scare away the wobbly.

As we move forward with this, pass along to your KAG/KF comrades and to me your pros and cons of how it's working out.
-----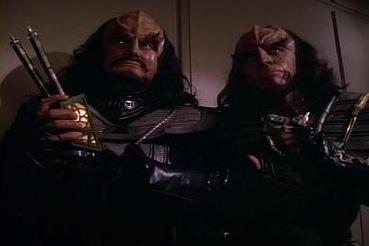 "I got this cool TRANSISTOR RADIO for my birthday!"

Thankfully, I did not for mine. But I did get some cards and calls from some of you, and I appreciate these greatly. I also got a thorough rousting at the DARK SUN January meeting...making me glad I'll NEVER turn 56 again!!

KRIS
Thought-Admiral/KAG Founder
KLIN-FIRE Force Leader
CO, IKV DARK SUN, Los Angeles

NOV/KLIN-FIRE notes
Sun 11/28/2012 6:33 PM

Pre-Seasoned Greetings to the KAG members of KLIN-FIRE!!!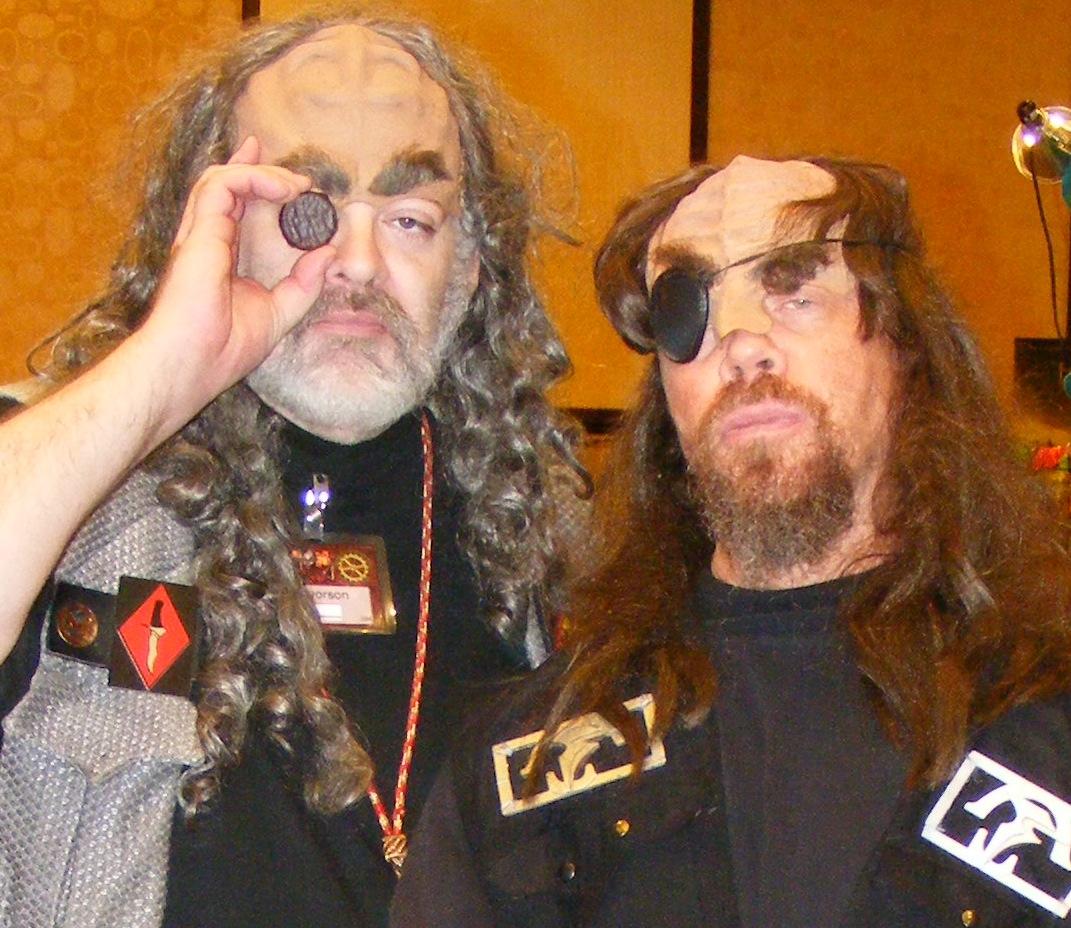 KBOB, KWAK, and I had a pretty good time at LOSCON, held at the Marriott down by LAX. Here, I show solidarity with KWAK by using a Peppermint Patty as an eyepatch.
-----
I've been doing this Klingon shtick for a while now--since 1979--and I've seen all sorts of leaders on all sorts of levels. Ultimately, though, I think it comes down to types of TRANSMISSIONS. Yeah. Like in your vehicle. One kind just "happens". Other than parking, neutral, or reverse, it's all AUTOMATIC. Klingons can be like that. Some just "get it", and can shift between seriously playful to playfully serious.


Some don't. Lots of gear-grinding, and all the footwork? No thanks. It gets called "standard". "manual". Or....."Stick".

As you lead your portion of the KLINGON ASSAULT GROUP, keep in mind what type of "Klingon transmission" you are: "AUTOMATIC"....or "STICK".
-----

Personally, I want to say something that within STAR TREK fandom -- and especially this sub-set of ours-- that doesn't get mentioned enough:


Thanks..


Thanks for helping to keep KAG going for this portion of its soon-to-be 25 years. Now, recruit, bring in new members--and new ships. Better yet, talk to those ships and members that years ago left KAG. "What about their ranks? What about...." what about what? What about shelving all the petty posturing, pretend "jobs", and bureaucratic crap and coming back in with us and playing. Repeat, Playing .
There's something I'd like to see happen again, but it'll only work well if we have some more ships. So, as you meet Klingons in IKEF or ROFF or The Empire, do tell them that I'D like to talk to them, and invite them to participate in..."something". If it'll help, feel free to forward this email to those Klingon comrades, wherever they may be.

They'll find big portions of KAG to be a LOT smoother ride. More automatic, less "stick". My friends, take care, and please have fun. BE fun. KRIS Thought-Admiral/KAG Founder
KLIN-FIRE Force Leader CO,
IKV DARK SUN, Los Angeles
John Halvorson


SEPT/KLIN-FIRE notes
Sun 7/8/2012 6:33 PM

To the KAG ships of KLIN-FIRE, greetings! KRIS here---
Earlier today (Friday, the 21st?) I got back home from my Michigan-bound roadtrip. I suppose I should empty out the van, but after sitting in that thing for hours on end...MY END aches, and I have no desire to do anything related to the van. Too much trouble to even blow it up.

COPPERCON in Phoenix, end of August, beginning of September. Saturday afternoon I met up with the command crew of the IKV KARNAGE: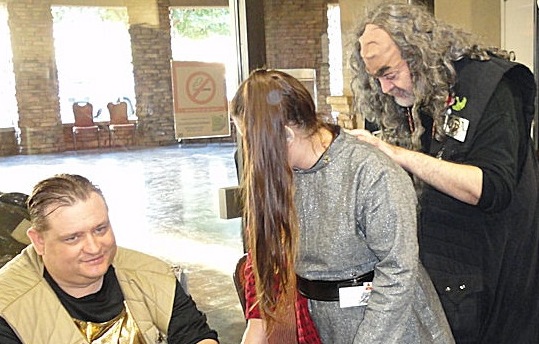 NO, I'm NOT performing necessary back surgery on AELAIDOANN (although I could do the job LOTS cheaper than you'd find in regular hospitals!). I gave her a choice--as I gave Sicarius, CO of the IKV KARNAGE: Make a Desk, or go "Godfather 2"....

Aelaidoann was promoted to the rank of IXL CAPTAIN. She knows how to whip that hair around; she almost broke one of my fingers... Yes, she IS Romulan, and a good example of KAG's Xeno-Legion.

Sicarius (George Richardson) I promoted to LT COMMANDER. He also added the KARNAGE to the list of ships on the KLIN-FIRE Banner.

("Make A Desk" is where I scrawl on KAG notepaper the date and the promotion...writing on the paper using the candidate's back as my writing surface. "Godfather 2" is the two-handed grip behind the candidate's neck, the Big Kiss, and me saying "I know it was you, Fredo. You broke my heart." That one isn't picked very often...by me OR the candidate.)

Here's four of us from the DARK SUN , dressed up in TOS garb...so it must've been Sunday at COPPERCON: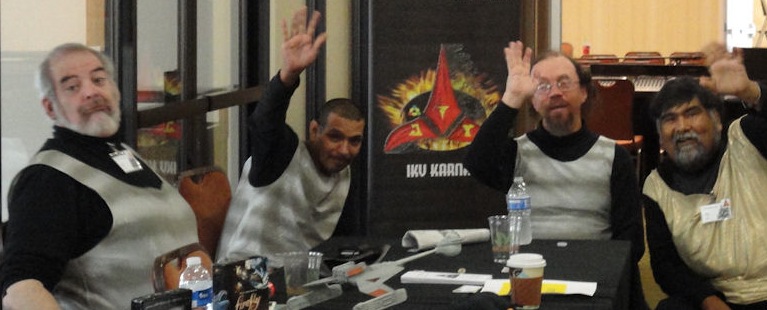 The unofficial motto of the IKV DARK SUN is "Hold Until Relieved." So here we are at the KAG table, doing just that. The stuff on the table...well, as the stuff wasn't ours, we didn't mind giving it away. I didn't bring along the Targ or any of my ST3 "worms"--- just my shipmates, KAMEL, KWAK, and KEG.

Nicely air-conditioned inside, and outside? Phoenix was enjoying 115 degrees. NOT the best temperatures to be out and playing Klingon...unless you are in uniform in a swimming pool, or enjoy heat stroke.

Those of you who are thinking of getting Klingon teeth made, check out TheFangMaster.com Nice work for these little appliances. Prosthetics. Klingon dentures. -----
On the SUN's event horizon is LOSCON, held at the LAX Marriott, Thanksgiving weekend. Absolutely THE busiest time for Los Angeles' flying public, so there's ZERO parking until Sunday afternoon...when everybody is leaving. Smart. However, the IKV SWIFT WIND will be showing up, so that'll make the whole LOSCON thing happier. -----
IKV MYSTIC VAMPYR of Denver is building a Captain's Chair, and will be heading to DRAGONCON in 2016... that's how to plan 'em, folks. You set up the project with lots of time, make all necessary and unnecessary preparations, then execute. -----
NORWESCON in April---I'll be going up to that, and see QAOLIN of the KPV RUTLEDJ and A'KIKO of the IKV HOV LENGWI'... and hopefully some old-timer Klingons broughtout of the woodwork at knifepoint. It would be great to see some members of the IKAV BLOODSTAR make the trip up from Salem Oregon.
There's a good-sized batch of Klingons--some costumed, some with headpieces-- up in Canada in Vancouver BC. I don't know if any of our Canadian KAG comrades are communicating with these people, but we should... so let's invite them to come down to NORWESCON in April as well.
Oh--you can see it on KEG's nametag, above: I cut the KAG logo off of some address labels, and stuck them on all our badges. The color and symbol adds color, and lets people know a bit more about us.
And now, I'm off to bed. "Jet Lag" in a Toyota Sienna...not a very pleasant thing at all...
KRIS
KAG Founder/Thought-Admiral
KLIN-FIRE FORCE LEADER
CO, IKV DARK SUN, Los Angeles


JULY/KLIN-FIRE notes
Sun 7/8/2012 6:33 PM

To the ships of KLIN-FIRE, greetings!

We start with a logo change for the IKV KARNAGE of Phoenix, attached.

Also attached is the logo/banner of the IKV TUSKAN CARNIVORE of Tucson Arizona.

Some of us from the IKV DARK SUN in Los Angeles are making the drive to Phoenix for COPPERCON to meet and congratulate SICARIUS and KAJ of these two Arizona-based ships, and have them affix their names to the KLIN-FIRE Banner.
-----
In the Northwest, KPV RUTLEDJ and the IKV HOV LENGWI' have been doing parades, conventions, and keeping their clothes on in the Seattle suburb of Fremont. A'Kiko! Qaolin! You're doing great!

-----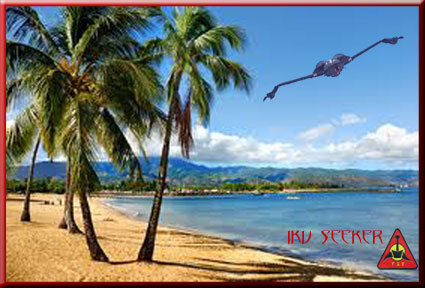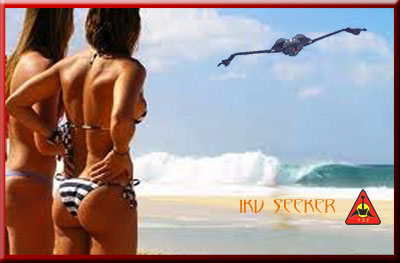 A ship from KAG's glorious past is rebuilding, and coming back into our ranks. This is the IKV SEEKER, of HAWAII.
Vam'Pyr of Denver's IKS MYSTIC VAMPYR and I have worked up a couple of "postcards" to help promote and develop the SEEKER:
Commander Kubera sutai-T'aw
Anthony Kubera
POBox 1754 Pahoa, HI 96778

http://www.klingon.org/database/house_taw.html

He's an excellent Klingon, but more importantly, a good guy. Makes excellent latex appliances too! Know of Klingons or STAR TREK fans in Hawaii? Point them towards Kubera and the IKV SEEKER!
-----

As the KLIN-FIRE fleet CO, I've drawn to a close two experiments.
First, at the beginning of June I decommissioned the IKV DANAL; Several days ago I struck the IKV VOLETH from our ranks. Communication, costuming, any kind of participation is all I'm really needing to see to know that a ship is at least trying to be worthy of the name "Klingon." These did not happen for the DANAL or VOLETH, so they've been let go from KLIN-FIRE..

Both of these ships were built from the ranks of Starfleet members. Not to disparage that club, but my experiment was to see if going Klingon would "take" with these people. It did not. Does this mean that we shouldn't recruit Starfleet members? I'll give a qualified "no" to that.

If you as recruiter see what YOU think is, or could be, a worthy Klingon inside that Starfleet suit, make the pitch. Otherwise, leave them be in their fine pajamas. We need the prey.
-----
And this brings us to the second experiment. It was entitled FLEET PROBLEM #4. Based on recruiting, it was a war-game geared to see which KLIN-FIRE ships would participate. I set no quotas, or rules on how to do it. How'd we do?

Well, we have a ways to go before we can go to war.

I will mention, here, that KAG has gone to war with STARFLEET, and from April 1994 'til about a year later, KAG won just about 90% of its engagements. A glorious time to be in the KLINGON ASSAULT GROUP.

We need large, club-wide glorious times again. GLORIES--- KAG events with our ship banners and club logo flying proudly, and described to our fleet's ships and all of KAG as after-event-reports, are what we're needing. These are also what will bring about promotions.

Questions? Comments, ideas, or concerns? Build up your crews and get them uniformed. Follow the example of growth set by the IKV KARNAGE-- the TUSKAN CARNIVORE!

GO FOR GLORY!

KRIS
KAG FOUNDER/Thought-Admiral
KLIN-FIRE Force Leader
CO, IKV DARK SUN, Los Angeles
johnhalvorson@comic.com
ikvdarksun@gmail.com

John Halvorson
North Hollywood
JUNE/KLIN-FIRE notes
Sunday, 3 June, 2012, 11:58 AM

To the ships of KLIN-FIRE, greetings!

Since last I've written you, a few interesting things have happened.

IKV SWIFT WIND and IKV DARK SUN participated in the East Pasadena DOO DAH PARADE, where we marched beside KEG in his Budgie-of Prey scooter. One week after that, the DARK SUN were taped by a Dutch film crew eating and play....and uttering a few words in the Klingon tongue, no doubt to the horror of MARC OKRAND (creator of the Klingon Language) also in attendance.

COMMANDER QAOLIN of Portland's KPV RUTLEDJ put out the call for a few Klingons to join him at McMinnville Oregon's UFO FESTIVAL AND PARADE. A'KIKO, CO of the IKV HOV LENGWI' came down and had a blast. This was her first outing as a Klingon, and she looked great!

And they didn't stop then.... as A'KIKO and QAOLIN made the trip to CONQUEST, a convention in Kansas City. In front of the gathered KAG crowd, QAOLIN was honored with the title of "KLINGON BASTARD." A'KIKO was acknowledged as a LIEUTENANT. Our fleet sprang for BBQ pulled pork sandwiches at the main KAG gathering.

KWAK and I erected the large KLIN-FIRE Banner, showing to the rest of the KLINGON ASSAULT GROUP our colors. And, while half a continent away, A'Kiko and Qaolin added their ship's name to the back of the smaller KLIN-FIRE Travel Banner.

Signing the Banner is like a combination of signing the Declaration of Independence and Home Ownership papers.

It is my intention to get to each KAG ship in KLIN-FIRE, and add your ship, location, and CO name.... and keep growing ships 'til we need a new flag.

One unfortunate piece of business to do: the IKV DA'NAL is now decommissioned. There have been NO responses to inquiries, no one recruited, no communication at all. That may be acceptable in other fleets, other clubs, but not in KAG's KLIN-FIRE. VAM'PYR, as our weg-page moderator, please remove IKV DA'NAL from our listing of ships. Also, mix/rearrange the placement of the remaining vessels shown. I leave the arrangement up to you, Vam'Pyr!
-----
Speaking of Vam'Pyr--- check out the IKS MYSTIC VAMPYR's convention-building in Denver! Great stuff!

IKV KARNAGE--- quite a number of cons they've done, and are planning on attending. KARNAGE is also doing preliminary work on building a ship to their south in Tuscon. Some of us from Los Angeles are going to head over to CopperCon this fall---and return the visit which KAJ gave us at the end of April.

You've doing well as a fleet, and the rest of KAG is reacting to the speed in which we've grown. All it takes is outreach, diligence, and a visible sense of humor. New recruits?---push 'em to KAG.org's Application Form. This gets them and YOU counted; our recruiting war-game (FLEET PROBLEM #4) has one more month to go.

Ships of KLIN-FIRE ....GO FOR GLORY!!!

KRIS
KLIN-FIRE FORCE LEADER
CO, IKV DARK SUN, Los Angeles